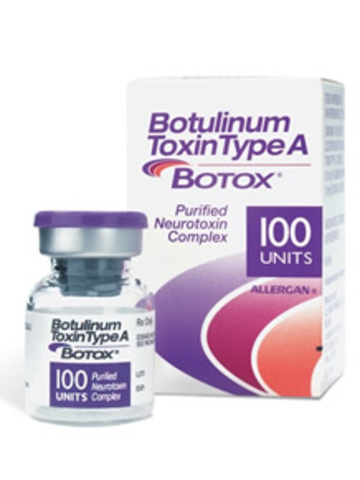 Currently the number one non-surgical aesthetic treatment, Botox® is also the leading brand of botulinum toxin type – A in terms of documented clinical trials and practical use around the world.
Botox® was the first botulinum toxin to gain a cosmetic licence endorsing its use for glabellar lines and wrinkles. It is approved for this indication in the U.S. and around twelve other countries in the world, and was licenced for this use in the U.K. in March 2006 under the brand name Vistabel®.
Generic name of Botox®
Clostridium botulinum type – A neurotoxin complex.
How is it manufactured?
Botox® is made from purified type – A neurotoxin produced by the bacteria Clostridium botulinum.
How does Botox® work?
It temporarily prevents the release of acetycholine from sympathetic nerve terminals.
Licenced status
Prescription only medicine
Who can perform Botox® treatment?
It should be used by trained members of the medical profession only.
Licenced UK indications for Botox®
Botox® is licenced in the UK for blepharospasm, hemifacial spasm, cervical dystonia, severe hyperhidrosis of the axillae, dynamic equinus foot deformity due to spasticity in ambulant paediatric cerebral palsy patients, two years of age or older, and for wrist and hand disability due to upper limb spasticity associated with stroke in adults.
Who should not have Botox® treatment?
Individuals with a known hypersensitivity to any component of the formulation.
Patients who have generalised disorders of muscle activity (e.g. myasthenia gravis).
Patients where aminoglycoside antibiotics or spectinomycin are already being used or are likely to be used.
Patients who have bleeding disorders of any type.
Pregnant or lactating women.
Reported side effects associated with the cosmetic use of Botox® include bruising or bleeding at the site of injection, headache, and rarely eyelid ptosis or diplopia, and brow droop.
Botox® Costs
Most clinics and practitioners charge by area of the face treated.  These areas are usually defined as crow's feet, forehead lines, and glabellar lines (frown lines between the eyes).
Further information
For further information concerning any of our treatments, the products we use, or to find out about prices and availability please call us on 0845 833 or contact us via our web form and let us call you back.
Share