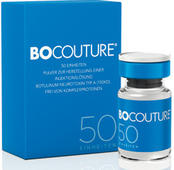 BOCOUTURE®, botulinum toxin type A, has been available in the U.K. since 2008 as the brand name Xeomin®, which is licenced in the UK for blepharospasm and cervical dystonia.
It gained approval for cosmetic use in the UK in July 2010 and is marketed for this indication, with dosing specific to treat glabellar (frown) lines, under the brand name Bocouture®.
Bocouture® claims to be an innovative Botulinum type A formulation, in which the complexing proteins have been removed by an extensive purification process from the botulinum toxin complex. In contrast to the other commercially available preparations, Bocouture® contains the pure 150 kD neurotoxin.
It is widely accepted that the bacterial protein present in other products play a role as promoters of an immune reaction, resulting in a loss of effect and reduction in duration of activity. Studies show that Bocouture®, without the complexing proteins, has the lowest content of protein of all of the available botulinum toxins and furthermore show that repeated application of Bocouture®, even in high doses, does not induce the formation of neutralising anti-bodies.
This means that Bocouture® is able to provide similar results to those achievable with the other products without the risk of antibody formation, providing continual long lasting effects. This could be relevant when large doses are being used for medical indications, but many industry experts questions the relevance when this product is used for cosmetic purposes.
Generic name of Bocouture®
Clostridium botulinum type – A neurotoxin complex.
How is it manufactured?
Bocouture is made from purified type – A neurotoxin produced by the bacteria Clostridium botulinum with complexing proteins removed through purification.
How does it work?
It temporarily prevents the release of acetycholine from sympathetic nerve terminals.
Licenced status
Prescription only medicine
Who can perform Bocouture® treatments?
It should be used by trained members of the medical profession only.
Licenced UK indications for Bocouture®
In July 2010, Bocouture® was granted a licence in the UK from the Medicines and Healthcare products Regulatory Agency (MHRA) for the "temporary improvement in the appearance of moderate to severe glabellar lines (vertical 'frown' lines between the eyebrows) in adult women and men aged 65 and younger, when the severity of these lines has a psychological impact for the patient".
Who should not have Bocouture® treatment?
Individuals with a known hypersensitivity to any component of the formulation.
Patients who have generalised disorders of muscle activity (e.g. myasthenia gravis).
Patients where aminoglycoside antibiotics or spectinomycin are already being used or are likely to be used.
Patients who have bleeding disorders of any type.
Pregnant or lactating women.
Reported side effects include bruising or bleeding at the site of injection, headache, and rarely eyelid ptosis or diplopia, and brow droop.
Costs
Most clinics and practitioners charge by area of the face treated. These areas are usually defined as crow's feet, forehead lines, and glabellar lines (frown lines between the eyes).
Further information
For further information concerning any of our treatments, the products we use, or to find out about prices and availability please call us on 0845 833 or contact us via our web form and let us call you back.
Share