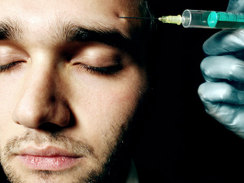 Botox has some competition in Dysport, after a head-to-head crow's feet study. There's a new wrinkle in the war on crow's feet.
After years as a top wrinkle-erasing drug, Botox may be facing stiff competition from a competitor called Dysport – another botulinum toxin product that outperformed Botox in a head-to-head trial against facial wrinkles. "When it comes to addressing the smile lines around the eyes, the crow's feet – at one month, the Dysport is more effective than Botox," study co-author Dr. Corey S. Maas, associate clinical professor at the University of California, San Francisco, told HealthDay.
For the study – published in the June 20 issue of the Archives of Facial Plastic Surgery – Maas and his colleagues injected both drugs in 77 women and 13 men – Botox on one side of the face, Dysport on the other. When they compared before and after photos of each participant squinting, the researchers judged Dysport superior at smoothing crow's feet – and two-thirds of the study participants said they preferred Dysport.
The finding is a big deal, Maas said, because it adds another tool to doctors' anti-wrinkle arsenal. But he said the finding should not be overblown.
"It's clear that there's a better smoothing effect and clearing of lines around the eyes with Dysport," he told HealthDay." But does that also mean that Dysport is better at achieving the same thing around the mouth or forehead or neck? We really can't make that conclusion."
Other dermatologists said the choice of Botox or Dysport comes down to personal preference. "I use both products and find them comparable," Dr. Julius Few, founder of the Few Institute for Aesthetic Plastic Surgery, told ABC News. "I do find that some patients prefer Botox and others prefer Dysport for subjective reasons that are difficult to objectify."
Source: CBS News
Share